HIS name comes from the Root "Yehova Yoshia" Yehova will save
which then is formed to the Divine name "Yehoshua" Yehova saves
which for the civil use was said "Yeshua"
and HIS Apostles called HIM "Yeshu"
The greek translation gave a problem, since only female names have at the end a vowel, therefore they changed the name to ιησους = IESOUS and the Romans were reading "JESUS" were the 'J' is pronounced like before the 17th century as a 'Y' The Spanish writing of this is HESUS with the same pronounciation as the Romans since their influence was brutal and strong.
Only in the Hebrew Language this name makes sence.


The Name that was robbed.

This part is most important because in HIS name we are heard and HE does increase miracles as we mature to use HIS name as HE wishes.

[KJV+] Matthew 6:9 After this manner therefore pray ye: Our Father which art in heaven, Hallowed be thy name. OK --- But what is the name of the father???

John 17:6 I have manifested your name unto the men which you have given me out of the world: yours they were, and you gave them to me; and they have kept your word. from TR So Yeshua revealed the name of the holy father to HIS disciples but it got lost or so to say it was profaned. Meaning that a replacement has been specified instead of the HIS name. That is when you say LORD instead of Yehova


Before the freemasons interference from 1881 after their conference in Israel in the freemasons hall in Zedekiahs cave nearly all bibles contained the name JeHoVaH and here a few Exsamples in English

1539 William Tyndale
1539 Great BibleBible
1560 Geneva Bible
1568 Bishop's Bible
1611 Authorized King James Bible
1833 Webster's Bible Translation
1862 Young's Literal Translation
1885 English Revised Version
1890 Darby Bible
1901 American Standard Version
1971 Living Bible
1985 Green's Literal Translation

And this was so in many languages that were already translated with a few exceptions like Martin Luther in 1545 which reads HERR like the KJV LORD

So the Freemasons robbed HIS Name again


No worries because there is a prophecy to bring the name back and it is fulfilled here in front of your eyes.

Ezekiel 36:23 And I will sanctify my great name, which was profaned among the heathen, which you have profaned in the midst of them; and the heathen shall know that I am YEHOVA, saith the Lord YEHOVA, when I shall be sanctified in you before their eyes. From Aleppo Codex

After about 70 of the C.E the Romans finally fought against the Israelis, destroyed their temple and exiled the people of the land so that they spread all over the world. These carried the Name of the almighty G-D. The Romans then forbid to call that name even unto death penalty. Therefore the rabbis also were forbidding to use that name in order to save the lives of many Jews. They developed a ceremony that they held every 7th year were the chosen rabbi taught a disciple standing over a surface of water the Holy Name making sure he heard it right. As we all know the Tetragrammaton is יהוה and as it is knowledge of those who have been taught that the vowels are Sheva, Cholam, Kamatz. That is to speak Yehova in English language.

Freely I have contributed this knowing from the Prophet [1] that the heathen will know HIS name and later in the big fight of Gog from Magog [2] also the Nation of Israel will come to know HIM and I am sure you will not speak HIS name in vain, because you will stand in awe as in the time of our blessed Moishe when he received the 10 commandments, which originals will be shown by the Israeli government soon.

[1] Ezekiel 36:23
[2] Ezekiel 39:7

read Hebrew from Right to Left
This picture shows the root of the tetragrammaton
according to Nehemia Gordon a final proofreader of manuscript copies.

in different translations it is written in differnt order as we find
"He who is" in the beginning of the phrase in the Peshitta (2nd Century Syrian translation - it uses Hebrew letters) in Rev 1:8 for instance.
There is still a number of believers that support the idea that Yeshua spoke the Syrian language. This is not so far fetched since the north of Israel was occupied by Syrians. Still Jews did not deal with them and Yeshua gave to Adam not the Syrian language but the holy language that we find in all of the decendants of Adam to Noah to Abraham and to Israel. You may understad how holy this language was for them when you read the books of the Makkabees.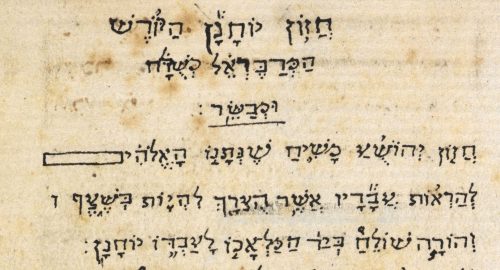 This is a 17th century Hebrew Manuscript of the Book of Revelation!
Here you see the title and first verses.
It is from the British Library and contains the name "Yehovah with full vowels" which refers to "Yehoshua Mashiach".
All other names are mainly scholarly guesses with little or no foundation. Still the Peshitta, (that is the Syrian translation of the Holy scriptures) puts instead of Jeshua 32 times the Name of GOD the Father; usually displayed in Bible translations as LORD in capital letters. To my regret the Peshitta does not have any clear evidence of the pronounciation of GOD's name since it also uses only a short form (MarYa). Anyway it tells us that there where we read LORD in our Western style Bibles normally the Name of GOD should be pronounced, so that HE comes to you and blesses you. Ex 20:24

Still How sure can we be about HIS Name? Jehova is in my sight 95% sure with lots of evidence in manuscripts and even miracles that confirm this name. If you need to be 100% sure use HIS name that HE told to Mose in Exodus 3:14 I Am that I Am which would be like Ehiyeh asher Ehiyeh אֶהְיֶה אֲשֶׁר אֶהְיֶה with that is the insurance it is directly in the biblical text. So we can say the great I Am is our father


How Neccesary is it to use HIS name? Abraham did not know the Name of GOD but it is the will of GOD for our time as you have seen above in the Prophet Ezekiel so lets do it Ezekiel 36:23 And I will sanctify my great name, which was profaned among the heathen, which ye have profaned in the midst of them; and the heathen shall know that I the LORD, saith the Lord GOD, when I shall be sanctified in you before their eyes. Many believe that YESHUA (JESUS) CAN SAVE, but many do not know what kind of saviour He is.
HE IS THE SUFFICIENT saviour
John 8:36 - So if the Son sets you free, you will be free indeed. You or another person cannot do anything to add to the saving work of the Messiah. No need an for additional yoke such as religious requirements, observance of sacraments, traditions, etc. Only obey HIM and HIS commandments
HE IS THE ONLY saviour: Exclusive
Acts 4:12- Salvation is found in no one else, for there is no other name under heaven given to men by which we must be saved. Because Yeshua is sufficient, God did not provide other saviours but made Him to be the only saviour for all mankind of all time.


HE IS THE DIVINE - HE is GOD the saviour
To be a saviour, you must be God! Yeshua ca nnot be the saviour if He is not God. 14
Yeshua is both God and saviour!
Titus 2:13 - while we wait for the blessed hope-- the glorious appearing of our great God and saviour, Yeshua the Messiah, Yeshua is the true God and eternal life!
I John 5:20 -We know also that the Son of God has come and has given us understanding, so that we may know him who is true. And we are in him who is true-- even in his Son Yeshua the Messiah. He is the true God and eternal life.
HE IS THE ABLE saviour Yeshua is able to the worst of sinners, even whom man considers impossible.
1 Tim 1:15- Here is a trustworthy saying that deserves full acceptance: the Messiah Yeshua came into the world to save sinners-- of whom I am the worst.
Matt 19:25-26 -When the disciples heard this, they were greatly astonished and asked, \Who then can be saved?\ Yeshua looked at them and said, \With man this is impossible, but with God all things are possible.\
Because the Messiah is God, He ever lives to make intercession for us. Thus, He has a permanent priesthood. He has not given His work as mediator to anyone else nor has he shared it to Miriam HIS earthly mother who cannot be a Highpriest anyway. Every claim like this is from the devil.
Heb 7:23-24-Now there have been many of those priests, since death prevented them from continuing in office; but because Yeshua lives forever, he has a permanent priesthood.
HE IS AN ALWAYS ACCESSIBLE saviour JOHN 6:37; 3:17
the Messiah is readily available to all kinds of people! You can go directly to Him.
John 3:17 - For God did not send his Son into the world to condemn the world, but to save the world through him.
John 6:37 - All that the Father gives me will come to me, and whoever comes to me I will never drive away.
CHALLENGE: JESUS IS THE ENTIRE saviour YOU NEED. CHALLENGE 2: Search the Bible! How important was the fathers name for Yeshua? JESUS MUST BE YOUR saviour, OR YOU HAVE NO saviour AT ALL! BELIEVE; TRUST IN HIM NOW AS YOUR saviour! HE IS READY AND ABLE TO COMPLETELY SAVE YOU!